EMslim HI-EMT machine EMS electromagnetic Muscle Stimulation fat burning shaping hiemtemsculpt beauty equipment
Advantage:
30 minutes of treatment = 20,000 muscle exercises

Portable, Power 3500W, 50HZ, detachable handle, can be controlled separately

Fast shipping: DHL/ Federal Express/ TNT/ UPS We use the safest and fastest international express transportation method to send the machine


It is very hot selling, wesell around 50pcs per month,and we got many good feedback from our clients.


Our machines are packed in aviation aluminum containers or hard wooden boxes with thick foam boxes inside, so they are very safe

We also offer 1 year of warranty + Lifetime maintenance + Consultation service anytime.

We can provide the user manual and teaching video and free OEM/ODM customization
INSTRUMENT DETAILS
| | |
| --- | --- |
| Voltage : | 100V-240 V ; |
| Power consumption: | 2.3KVA; |
| Magnetic wave Output intensity: | 0- 7 Tesla ; |
| Shape of stimulation pulse: | HI-EMT ; |
| Pulse: | 300µs ; |
| machine Size: | 65*60*35(cm); |
| machine weight: | 38kg |
Hifem Machine Features
1. Good result —— 30 minutes treatment= 20000 workouts, increase 16% muscle and reduce 21% fat after about 2-4 courses
2.Non-invasive, no side effects and painless
3. 7 Tesla High Intensity——cover big skeletal muscles, and remodel its inner structure.
4. Patented cooling system——support long time operation
5. 2 magnetic applicators——break down fat deposits and increase muscular tone and strength
6. Targeting 5 body parts——abdomen, arms, hips, hamstring, thighs
7. Progressive step training——improve the feeling and effect of actual exercise
8. 5 training modes: HIIT, Hypertrophy, Strength, Combo 1 HIIT+ Hypertrophy , Combo 2Hypertrophy + Strength
Features and Benefits:
Builds muscle & Burns fat Together!
Non-invasive buttock lifting procedure
Suitable for everyone - No anaesthesia - No surgery
Only a 30 minute walk in walk out procedure
Only 4 session needed 2-3 days apart
Feels like an intensive workout
Safe with No downtime
Instant results but gets better after two to four weeks
16% average increase in muscle mass,
19% on average fat reduction
HI-EMT uses a specific range of frequencies that do not allow muscle relaxation between two consecutive stimuli.
Muscles are forced to maintain a contracted state for several seconds. When repeatedly exposed to these high-load
conditions, muscle tissue is forced to adapt under pressure. Studies indicate that , One to two months after HI-
EMT treatment, patients' average abdominal muscle thickness increased by 15% -16%.
✓ Patented cooling technology makes it last.
✓ Continuous cooling technology makes the treatment himproving its output power which make it very stable
✓ The market magnetic wave instruments are generallbe adjusted up to 7 Tesla,The perfectly balanced conin the body-building equipment on the market
Targeted muscle training to be "thin should be thin"
There is always a problemfor women to lose weight-howto lose weight
without losing breasts?
No matter taking diet pills, meal replacement or
strengthening exercise,losing weight will result in overall weight loss, including
Slim beauty has special muscle-building models for different parts, so you
can raise your hips, reduce thigh fat, thin arms, and increase abdominal
muscles without losing your chest!
Restore the tightness and elasticity of privacy and regain happiness and joy
Using hi-emt technology, activate the collagen regeneration of the lower pelvic floor muscle tissue, tighten
the relaxed pelvic floor muscle, and comprehensively improve the degree of muscle control. With non-
invasive, painless, non-invasive, non-invasive, non-radiative, non-thermal technology, compact bottom
private, there is no need to take off the pants
,
zero embarrassment, zero pain and comfort, easy to restore
the privacy of the private place.
Real muscle movement
Here are 3 things you need to know about EMSlim :
1. HIFEM.
This acronym stands for High-Intensity Focused Electro-Magnetic (HIFEM) field technology. This is the safe and effective technology behind EMPSCULPT. HIFEM technology induces short bursts of powerful muscle contractions in the treatment area. These supramaximal muscle contractions are not achievable through voluntary contractions. When muscle tissue is exposed to these contractions, it must adapt to such extreme and stressful conditions. The tissue does so by remodeling its inner structure, and in doing so, builds muscle and burns fat. This leads to increased muscle density, decreased volume, better definition, and improved tone.
2. Quick and effective.
Studies show that EMSlim can decrease fat by 19% while also increasing abdominal muscle mass by 16%. EMSlim is an attractive treatment option for those who have a BMI of less than 25 and may not be ideal candidates for other fat reduction treatments. These painless sessions take approximately 30 minutes and can be added or stacked onto other treatments such as Cool Sculpting to give patients the tight, firm body they want.
3. Guts and butts.
EMSlim is particularly effective on stubborn fat deposits in the abdomen and buttocks which are often the areas most frustrating for those seeking to improve their body shape through exercise and diet alone.
A course of treatment is 4 times, each time only takes 30
minutes. Do it at least 2 times a week and 2 weeks in a row,
Detail shows
Treatment display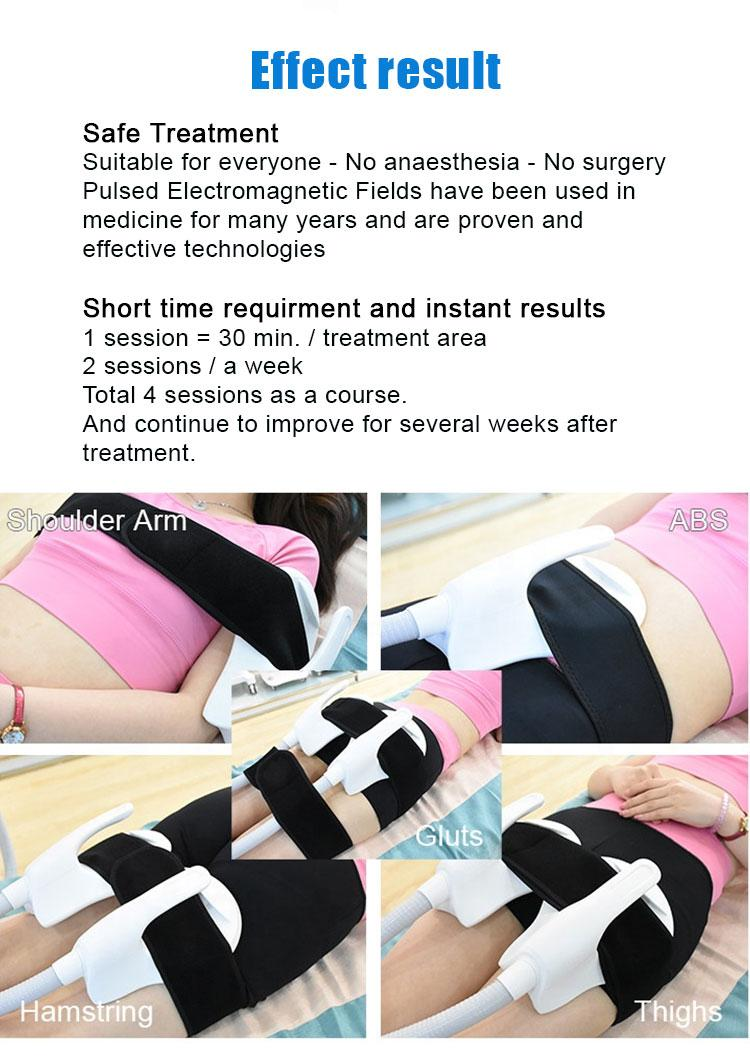 Before and After